Personal injury cases account for a large share of civil litigation in the U.S. These claims are protected under tort claim acts. For a case to be filed, a person must have sustained an injury, or property must have been damaged due to improper or negligent activities of a third-party business. A car accident, construction accident, muscle pain, a defective product, and medical negligence are common reasons for an injury lawsuit.
Understanding personal injury data provides a clear picture of the different types of accidents in our society and the necessity of personal injury compensation. How are personal injury settlements paid out? Find out below, along with the types of settlement payments, factors that affect your settlement, and more.
How Your Personal Injury Settlements Are Distributed
A common misconception about a settlement agreement with insurance companies is that once an agreement is reached, the process and settlement negotiations are done. However, there are further measures to take following the discussion to prepare for your own personal injury claim.
Once you and your lawyer have reached an agreement on your claim, the next step is to wait for the settlement check — and then distribute the funds you received to pay off your expenses. Keep in mind that you would only be able to keep a certain percentage of your injury payment. For example, in most states, you will receive only 49% of the settlement amount from your personal injury payout. This is because a portion (33%) will serve as payment for attorney fees, medical liens (16%), and case costs (2%).
Just a disclaimer, once your claim has been settled, you cannot reopen it. Even if you notice abrupt flare-ups in your personal injuries, your claim will still be considered done. In some instances, an insurance company will make you sign a release of liability and the right to compensation in order to guarantee that your claim is formally closed.
Your settlement draft, which is a check, will show the amount paid by the insurer on your bodily injury claim. There will be no categorization of the settlement amounts and no breakdown of the sums for the claimant's pain and suffering, medical bills, and/or wages. Any outstanding balances from the accident claim are paid out of the proceeds.
When Will You Receive Your Settlement Check
State-mandated laws regarding deadlines constrain an insurance carrier. Providers must therefore come up with a decision and cut the check before the deadline. However, the timeframe of when the check is issued varies among insurers' accountants.
You should receive your check from your settlement offer two (2) weeks after submitting your claim. If the check is not delivered by the two-week deadline, the insurance provider may be guilty of bad faith for the delays in your payment. Once this happens, we advise seeking the services of a personal injury lawyer to handle the claim processing on your behalf.
Types Of Settlement Payments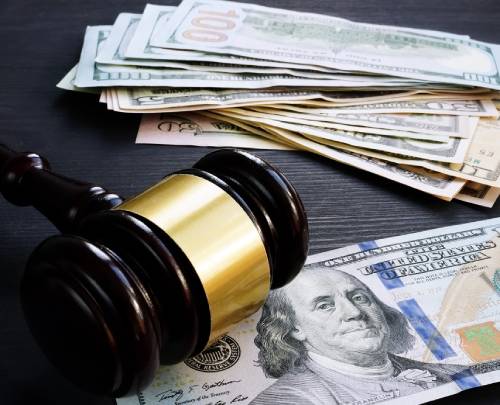 Each settlement agreement reached between a personal injury claimant and the insurer of the party at fault reflects the specific facts of the case and the desire of both parties to cooperate in order to resolve. However, just as no two settlements are the same, the process for how personal injury settlements are paid also varies. In the majority of settlements, the claimant either receives their settlement proceeds in a single lump sum payment or a series of payments over a predetermined length of time.
Lump-Sum Settlements
Lump-sum settlements include the payment of the entire agreed-upon compensation amount in a single payment. Lump sums provide liquidity advantages and the freedom to invest the settlement money however you see fit. Your payout will be free from taxes whether you choose a lump sum settlement or a structured settlement.
Structured Settlements
Structured settlements allow you to receive your compensation in monthly installments. The start and end dates of a structured settlement are important because they determine the duration for when you will receive payments. These settlements also frequently include an initial lump sum payment to cover past-due medical expenditures, health insurance liens, and other debts, followed by smaller payments until the defendant pays the agreed-upon amount. A structured settlement can also yield interest, which allows these payments to increase and keep up with inflation.
Start And End Dates
You can receive your payments immediately or delay them to give your settlement money more time to accumulate. The value of your compensation will be greater when you start receiving payments with a longer accumulation period.
A period-certain annuity will only pay you for the time stated in the contract, whereas a life-only annuity will continue to pay settlement funds for the rest of your life. In addition to the start and end dates and other specifics of the contract, you may also negotiate the following:
Payment Frequency
Amounts Per Distribution
Death Benefits
Factors That Affect Your Personal Injury Settlement Money
Various factors affect how much financial compensation you can receive. For example, even if the federal government does not tax injury settlements, you may still be required to pay taxes if you owe taxes prior to the settlement.
The most significant factor that can dictate the outcome of your personal injury settlement will be the attorney you pick to represent you in court. Regardless of your claim's success, pre-determined costs and fees reduce your settlement proceeds. These expenses are reimbursed before the claimant receives the final settlement payment.
Overall Loss Of Income
A personal injury settlement should cover your lost wages. This should include the time you spent in physical therapy and any future income you could potentially lose as a result of your injuries or if you are unable to work again.
Medical Bills Incurred For Your Recovery
If you have previously paid for medical care with medical liens, this will affect the amount of compensation you are entitled to receive for your personal injury claim. When filing your claim, you should include any medical expenses you paid for your treatment, such as consultation fees to doctors, prescriptions, and others.
Other Costs Associated With Your Injuries
These costs can include anything related to your accident, such as court fees, transportation charges, and any other costs incurred due to the accident. These expenses must be paid out of any non-monetary damage calculation and assessment because they were not included when deciding how much to ask for in a personal injury settlement.
Attorney's Fees
This is compensation for the guidance and services provided by your personal injury attorney. When you employ an attorney, you must pay a certain percentage of your settlement to compensate them. The majority of personal injury lawyers work on a contingency fee basis. This means you won't have to pay until you receive your settlement check. When a settlement amount is agreed upon, you will pay your lawyer a percentage of the total settlement amount as compensation.
Have you recently filed for a workers' comp claim? Find out how long it takes to receive your worker's compensation benefits in this Disability Help article.
Do You Qualify?

Free Disability Evaluation
Related Articles

Zoey has worked with Cheri for years and has been creating the best articles not only for Disability Help but for our readers. Her job hits close to home for she has a brother with special needs. She hopes to see science and technology pave the way for a better life, with Disability Help to cover it and share it with those that need it.