With only less than 1% of its population left without a job, the industry sector of North Carolina is experiencing increased productivity and growth. Over the past few months, the retail trade, transportation, and warehousing industries have experienced increased nonfarm wages and salaries.
However, these industries significantly increased in total recordable injury and illness cases. Retail trade increased by 63,600 cases in 2021, while transportation and warehousing experienced a 46,200 increase last year.
As an employee, you must be aware of the liabilities that come with your job and your labor rights, especially when you get injured. Under the North Carolina Workers' Compensation Act, employees who suffer on-the-job injuries may be eligible for benefits and compensation.
It is designed as a simple and efficient form of "no-fault" insurance for employees with work-related injuries. Unfortunately, today's North Carolina workers' compensation regulations are so complex and nuanced that filing claims requires so much paperwork and takes too much time.
This dramatically hinders injured employees from receiving medical attention and the financial compensation they need to recover.
Read the article below to learn more about North Carolina workers' compensation.
NC Industrial Commission Claimant Information: What You Need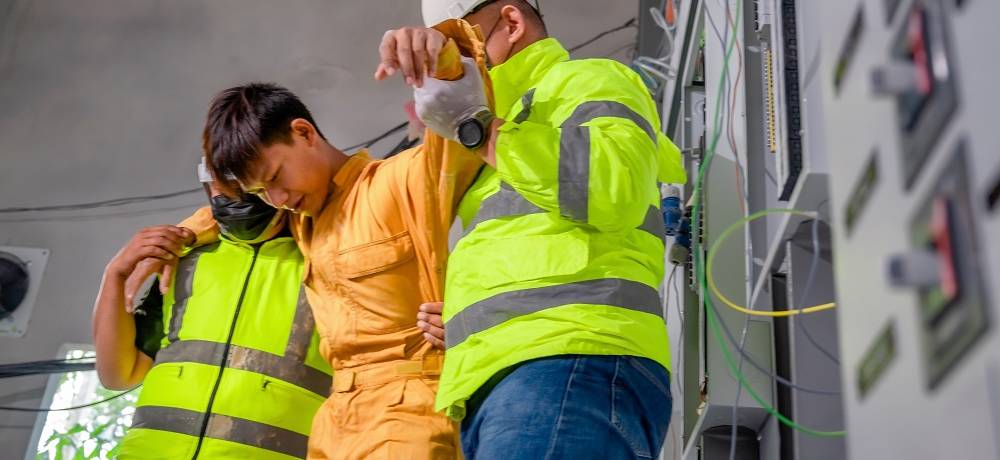 The NC Industrial Commission administers and manages the Workers' Compensation Act. This program aims to ensure that all qualified employees who suffer work-related accidents or illnesses receive sufficient coverage, proper medical care, and equal benefits following the Workers' Compensation Act and the State Human Resources Policy.
If you had a workplace injury, you must immediately report to your employer and file a workers' compensation claim with the Commission no later than two years after the workplace accident. If you are diagnosed with an occupational illness or a work-related disability, similar processes apply.
Aside from informing your employer and insurance provider of your work-related injury, there are also worker forms you must fill out and submit to the NC Industrial Commission to kickstart your workers' comp claim.
This employee form is also known as the "Notice Of Accident To Employer And Claim Of Employee, Representative, Or Dependent." To begin your claim, fill out all the necessary information, including your incident's circumstances.
This form is exclusive for employees who are suffering from a lung condition. It includes compensation claims for asbestosis, silicosis, and bysinosis.
If the cost of your treatment is too expensive for you to handle yourself and exceeds your workers' compensation insurance limits, then you could use this form. With form 18M, you could request additional medical compensation to help with your ongoing medical bills and other expenses.
Questions To Ask A Workers' Compensation Lawyer In North Carolina
If your workers' compensation claim goes to trial, it is best to seek legal services from an attorney with extensive experience regarding workers' compensation law. Workers' compensation lawyers in North Carolina can help you pursue a favorable settlement offer for your claim. They can also help you demand adequate compensation for your injuries and handle all negotiations with the insurance company.
1. What percentage of workers' compensation cases do you successfully resolve?
The likelihood that you will "win" a workers' compensation case is primarily determined by the circumstances surrounding your workplace accident, the evidence you have to back your admission of liability, and whether you have experienced attorneys to assist you during a court hearing.
Hiring a workers' compensation lawyer knowledgeable in workers' compensation litigation, including winning court cases and negotiating settlements, will give you the best chance of success.
2. Does It Matter If I Caused The Accident?
Your compensation could be reduced if you were partially at fault for the accident. The compensation amount that will be deducted depends on North Carolina's shared fault rules.
3. When Must I File A Workers' Compensation Claim?
Employees must notify their employers of any work-related injury or illness as quickly as possible but no later than thirty (30) days after a workplace accident. In addition, injured workers should immediately file a workers' compensation claim directly with the Commission to alert them of any work-related accident and ensure the protection of their labor rights.
If you wish to file a workers' compensation claim in person, you may visit any of the Commission's office locations and deliver the completed claim for benefits for yourself.
Tens of thousands of employees and their families rely on workers' compensation each year for financial security and medical care following a workplace accident or the diagnosis of an occupational illness. If you want to know how to qualify for workers' compensation benefits, check out this Disability Help article for more information.
Do You Qualify?

Free Disability Evaluation
Related Articles
Cheri leads our team of writers in producing the best quality content there is regarding society and disability, most especially those that helps ease the quality of life for our differently-abled loved ones.